We'd love to hear from you…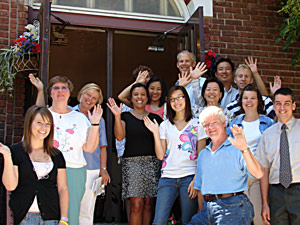 Office: 178 West Center (Swenson House) in Logan
Monday thru Friday 9:00 a.m. – 1:30 p.m.
Pastor Derek Forbes' office hours: Tuesdays 1:00-3:00; Fridays 10am-noon;Â other times by appointment
Pastor Meg Vail's office hours: Mondays 1:00-3:00; Wednesdays 10am-noon
Church Office Phone: (435) 752-0871
Church Office e-mail: info [at] firstpreslogan.org                                                                                                 
Pastor Forbes' e-mail:Â derek [at] firstpreslogan.org
Pastor Meg's e-mail: meg [at] firstpreslogan.org
COME VISIT! Everyone is welcome! Phone or check out our web site or Facebook page  for Sunday morning Worship services information, activities for all ages, or special events.
We at First Presbyterian Church of Logan believe in God's steadfast, and inclusive love. It doesn't matter whether you are male or female, have light skin or another of God's beautiful hues. It doesn't matter whether you come by yourself or with others, whether you are Democrat or Republican (or anything else!), financially comfortable or in need, gay or straight, younger or older, whether you have been super faithful this past week or messed up royally – whoever you are, you are treasured by God and we want to welcome you here.

We invite you to come to worship. Come to Bible Study, or for a time of fellowship or service. Discover the grace and love of God in your life. We at First Presbyterian gather because we need it…perhaps you do too?